Sewing Machine Reviews: Brother XL2600I Sew Advance Sew Affordable 25-Stitch Free-Arm Sewing Machine
The Brother XL2600I Sew Advance Sew Affordable 25-Stitch Free-Arm Sewing Machine could be one of the cheapest Brother sewing machines that you will ever find. Very easy to use and really handy, this model of the sewing machine is popular among those who are still trying to learn how to sew. It only weighs 13 pounds and it comes with several features that can really work amazingly, especially for amateurs, this is a good sewing machine for beginners. Finally, you should also know that this Brother sewing machine is offered at a very low price in the market today. Here is my Brother XL2600I Sewing Machines Review.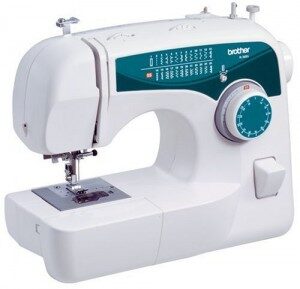 Main Features of this Sewing Machine from Brother
Surprisingly, the Brother XL2600I Sew Advance Sew Affordable 25-Stitch Free-Arm Sewing Machine still has so many features to offer you despite its incredibly low price. First of all, it has an automatic needle threader which can help you save yourself from those torturing minutes that you have to spend on connecting uncooperative threads to the needle. It is also jam-resistant – a common feature among sewing machines. Choosing the kind of stitch that you want to use, too, has been made easier with its easy stitch selector. When it comes to bobbin winding, this cheap yet efficient sewing machine from Brother has a feature that can make things more organized for you, as well.
What Makes the Brother XL2600I Different From Other Sewing Machines Sold in the Market Today?
The Brother XL2600I Sewing Machine is incredibly cheaper than other machines from Brother and even from other brands of sewing machines. Primarily, it caters to the needs of beginners. It is user-friendlier than most sewing machines that you can possibly think of. Its one-step auto-size buttonholer feature, too, is something that anyone can look forward to. Plus, with the dimensions of 12.3 x 7.7 x 9.6 inches, it can certainly be considered as a handy sewing machine.
Pros
If there is something highly commendable about this product, I would say that it is its price. Considering its brand, one can still believe that this Brother 25-Stitch Free-Arm Sewing Machine XL2600I can still make quite a good show. For me, this model of the sewing machine, too, is a good one because the stitches it produces are good and firm. It is very light, very easy to use and it can really be the best choice for beginners.
I love this machine personally because it allows me to control the speed that it can perform. It's also very easy to control it because it has a foot pedal for me to take control. This machine also makes creating buttonholes a lot easier and it allows me to choose from seven different buttonhole styles.
Cons
The first thing that I have noticed about this product from Brother is that sometimes, it makes me think that I am just playing with a toy version of a typical sewing machine. Somehow, the structure of this sewing machine makes me get that kind of feeling. Also, there are times when this model makes me wonder if its fragility can handle all the features that it is offering. The manual that comes in the package, too, can be a bit confusing sometimes, especially with the inconsistent usage of the Spanish and English versions of the instructions.
It's too much of a basic sewing machine as it only uses a dialer to choose a stitch style. Aside from that, it doesn't have a display screen, which could make our lives easier at some point especially in choosing the stitch designs. However, I understand that these are just minor flaws that I found in this machine.
Is This Brother Sewing Machine Easy to Operate?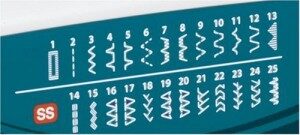 I have no doubts about this one. This model of a sewing machine from Brother is really easy to use. Just by looking at the indicators placed on the body of the sewing machine itself, you will already know what to do and how its parts function. The instructions given by the user's guide or the manual are not complicated, too, especially once you get used to reading its content.
My Personal Experience with Brother XL2600I Sew Advance Sew Affordable 25-Stitch Free-Arm Sewing Machine
I would say, the Brother XL2600I Free-Arm Sewing Machine is not something that I can use to make clothes of all types of fabric. Sometimes, I really feel like it is going to break. I do not think that this is something that professionals can use on heavy-duty projects. On the other hand, I have recently started showing Trisha the basics of sewing and this model is what I used. It is good to know that the Brother XL2600I Sewing Machine was able to make things easier to understand for my 5-year-old daughter. I also think that this product from Brother is one of the most inexpensive ones that I have found.
Tips for Using This Particular Model of Sewing Machine from Brother
First of all, when using this product, begin by reading the manual. It may be a bit hard to understand, at first, but it can be very helpful. Do not get too overwhelmed with its features, too. Some of them are just there to serve as accessories. If you bought this and you are a beginner, it would be good to still have someone to guide you. You may also try looking for instructional videos if you think that the manual is not bringing you any good.
Is Brother XL2600I a Good Buy?
The answer to this question depends upon your purpose for buying it. If you are getting the Brother XL2600I Sew Advance Sew Affordable 25-Stitch Free-Arm Sewing Machine for simple projects or to just learn how to sew, it is absolutely a good buy. On the other hand, if you are an expert and you got this plastic sewing machine over a model composed mainly of metal, you made the wrong decision. Despite the low price of this product, you would still not want to waste any amount of money on something that will not really match your needs and preferences.
Verdict
If I were to rate this product from 1 to 10, 10 being the highest and 1 being the lowest, I will give the Brother XL2600I Sew Advance Sew Affordable 25-Stitch Free-Arm Sewing Machine a 7.5. As someone who already has experienced using different types of the high-end sewing machines, I can really tell that this Brother sewing machine is only excellent for amateurs or beginners. However, I do not really think that this product is a bad sewing machine. Disregarding its price, I just think that its features are not enough to provide the help that all types of users need.