It is a fact that Janome is among the leading manufacturers of sewing machines in the world. The Japanese company has an excellent reputation for the quality of its products. One of the popular options in its range is the Janome Magnolia 7318 sewing machine. It comes with a set of useful features. It weighs 17.2 pounds. It is suitable for sewing, quilting, and various home crafts. Let's read my following Janome sewing machine reviews to find out more.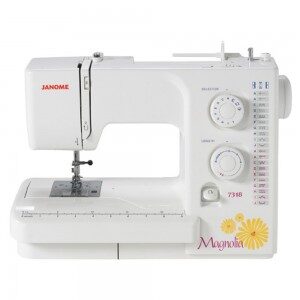 The Main Features of Janome Magnolia 7318 Sewing Machine
Janome Magnolia 7318 comes with 17 stitches and a four-step buttonhole. The stitch style is selected with the use of a dial. There is a dial for the adjustment of the stitch length and width as well. The maximum available stitch length is 4 mm. This Janome sewing machine features a front-set reverse lever for locking stitches. The thread tension control is manual. There is a thread cutter that is set underneath the faceplate. The model comes with a 25-year warranty.
What Makes The Janome 7318 Different?
There are several things that make the Janome 7318 stand out among competitors. The bobbin is set under a plastic cover and this is extremely useful for busy seamstresses like me. You can check how much bobbin thread there is left at any time without having to open the case. The push and pull bobbin winder is a breeze to use. The lift of the presser foot is higher than with many other models. This is great for making fixes and improvements even to thick coats. Another feature that impressed me is the availability of overcasting stitches, which give you perfectly smooth edges.
Pros of the Janome Magnolia 7318
I have to say that Janome Magnolia 7318 is quite versatile. I use it for sewing and for some smaller quilting projects. I also use it for making small stuffed toys for my daughter. It can handle all tasks very well. It works excellently with all kinds of fabrics as well. It works with materials that are very thick and with ones that have a glossy or deeply textured surface. The quiet operation is another plus.
This Janome Magnolia sewing machine pulls excellent performance. It has a powerful motor. It has a stable construction as well. It works at a very good speed. The quality of the stitches is very good. They are perfectly straight. All of the styles look very nice. The automatic thread cutter is particularly useful for achieving perfection. I can produce really good pieces with this machine.
Another thing which I like about this Janome Magnolia 7318 sewing machine is that it is easy to carry around. It is fairly light with its weight of 17.2 pounds. It is quite compact as well. It has a retractable handle which is quite sturdy in addition to being ergonomic. I love the fact that I can take it with me to another place where I can enjoy my hobby.
Cons
The drop feed is set on the back of the Magnolia 7318. This means that you will have to get up to adjust it. If you have a bigger table like me, you will have to go round it too. This is not a huge issue, but it is certainly annoying.
I have noticed that the supplies and extra accessories for the Janome 7318 are not as widely available as those for models from other brands. Again, this is not a serious problem. I can still find what I need even though the shopping takes longer.
Is the Janome Magnolia 7318 Easy to Use?
I can honestly say that Janome Magnolia 7318 is one of the sewing machines which are the easiest to use. I absolutely love its instruction manual. It explains everything from the setup and maintenance to the making of the stitches. It really teaches you how to use this Janome sewing machine fully. The adjustment of the bobbin is easy and so is the selection of the stitches. The pedal is quite responsive. It is a breeze to use.
Tips on Using This Janome Magnolia Sewing Machine
This Janome Magnolia 7318 model comes with three extra feet included in addition to the main one, but it can work with many other ones. They do not have to be from the same brand. They just have to have a standard size and design. When you select the stitches, the needle has to be set to its highest position. In this way, they will come out perfectly straight. You do not have to worry about imperfections.
My Personal Experience with Janome Magnolia 7318
I actually got this Janome sewing machine after comparing it to several competitors and primarily ones from Singer. I am happy that I picked the Janome 7318 because of its stable performance. I can say that it has one of the best owner manuals that I have seen. The setup took much less time than I expected. I found it super simple to adjust the bobbin. I have used the sewing machine for several months now for more basic projects like redoing some of my daughter's clothes, making a quilt, and craftwork and I have no complaints whatsoever. So far, I have not done any troubleshooting even replacing a broken needle. I think that this fact speaks for the quality of the machine.
Is Janome Magnolia 7318 Sewing Machine a Good Buy?
The price of Janome Magnolia 7318 corresponds to the stitch quality and the performance reliability which you will get. However, you can readily get more stitch options and more automated and advanced features for that much. In recent years, the competition has become fierce and everyone is offering more for less. This model could have easily come at a slightly lower price. If it were just slightly cheaper, I would recommend you to go for it with confidence.
Conclusion
It is clear that the benefits and advantages of the Janome Magnolia 7318 outnumber its drawbacks by far. All components and accessories seem to be of high quality. The build is sturdy. The machine performs excellently. It is quite versatile as well. It has only minor flaws. It could have come with more stitches and fancier features such as computerization, but I guess that they could have pumped the price. Overall, I think that the Janome Magnolia 7318 sewing machine is one of the best sewing machines for beginners and intermediate users who are looking to learn and to get more inspiration.