Many parents have a good first impression of the Hello Kitty sewing machines as they are searching for information about sewing machines that will be a gift for kids who are interested in sewing. However, there is always one point making them hesitate is that these Hello Kitty sewing machines look too like toys which have beautiful and cute carton cat on the surface. These parents feel that kids would not get a good sewing experience with the Hello Kitty sewing toy, or even would be harmful to kids' interest in sewing. These thoughts always confuse them. Is it true that Hello Kitty sewing machines are just toys as these parents think? Don't be deceived by your eyes. Let's have an in-depth look at the top 3 best sellers on amazon. Let the data tell you the truth.
Janome 11706 3/4 size Hello Kitty sewing machine
Janome 11706 sewing machine is a small sewing machine that just has a 3/4 size of the standard sewing machine. The cute design is this machine's most attractive point. The machine body is covered with a warm green-blue color, beautiful flowers, and mini Hello Kitty. Most Hello Kitty lovers will have a strong willingness to own it. Usually, the size is smaller, the weight is lighter, the portability is better. So compared with the other sewing machines including the following 2 machines, this machine has a lighter weight and has stronger portability. The combination of cute design and small size would make the beginners feel comfortable and easy, especially for children.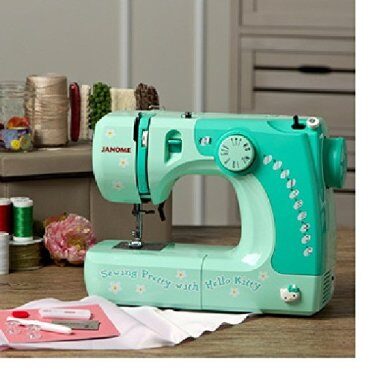 Janome 11706 Hello Kitty sewing machine includes 11 built-in stitches which make kids' sewing jobs easier and save them more time, a four-step buttonhole that is also an important feature improving sewing efficiency. The beginners working with 11 stitches are free to create more incredible outcomes. It's obvious that these convenient features are helpful to kids. You will be surprised about the creativity of your kids working with this small cute Hello Kitty sewing machine.
However, you need to keep in mind that the Janome 11706 Hello Kitty sewing machine is known as an entry-level machine and only comes with basic features for beginning sewing and without many other advanced features that you will find in some sewing machines which are more expensive. If you want stronger machines, you may need to know the other 2 sewing machines.
Janome 15822 Hello Kitty sewing machine
The Janome 15822 is the next level in the Janome Hello Kitty series of sewing machines. This machine has the normal size as the other standard machines well and includes 22 built-in stitches, a convenient needle threader without in Janome 11706. You are able to use this machine for all kinds of beginner sewing tasks or intermediate projects.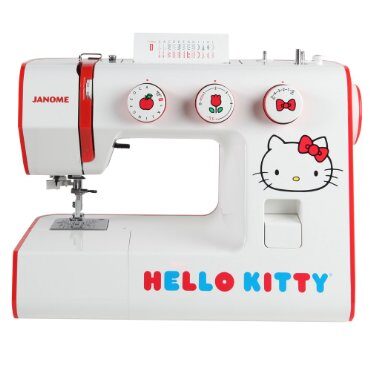 This machine works very smoothly, and it includes more built-in stitches, is rather easy to use, and is super cute. This machine has a similar operation to Janome 11706. This machine provides a more big room for the sewer to grow up. This Hello Kitty sewing machine has more convenient features and more room for growing up. This Hello Kitty sewing machine is ideal for kids and other beginners. Because of the above good advantages, this machine became so popular.
If I recommend one machine to you, I will recommend this one, because of its excellent performance, stability, ease of use and another important thing is that you can own it for under $200.
Janome 18750 Hello Kitty sewing machine
The Janome 18750 is the most advanced one among these 3 machines. This machine is a full-size computerized sewing machine. For a person who has many sewing experiences and seeks more grow-up room to make their sewing skills stronger, this machine is your right choice. Some important features include:
LCD screen
50 built-in stitches
auto needle threader
3 one-step buttonholes
speed control slider
start/stop buttons
drop feed system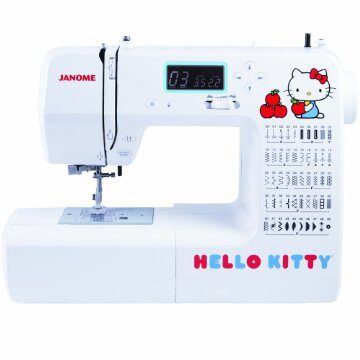 The 50 built-in stitches allow you to sew many different stitches. The auto needle threader makes threading easier and saves time for threading. The LCD is easy to use. Also, this computerized machine comes with a very helpful manual that will speed up your sewing learning process.
If you want to pay a bit more money for a stronger sewing machine, it is right for you. Click here to see availability and reviews for this sewing machine on Amazon.
Final conclusion
If you want a sewing machine for a kid who is a beginner and loves Hello Kitty, you may need a basic sewing machine like Janome 11706, because it is very affordable, easy to use, and very suitable for beginners. However, if you want to give your child more growing up room on sewing, I recommend the Janome 15822 or Janome 18750. They are both excellent sewing machines, one manual and one computerized. If you want more advanced features and more excellent performance, 18750 is the best choice. However, the 15822 can do most sewing projects from most sewers and has a perfect balance between performance and price.