Mini sewing machines are some people's choice nowadays. These Mini machines are often needed by kids. Also, there are some adults who often bring the machine to sewing classes or from one place to another. So they will want to get a machine which is very portable. Let's take some time to find the answer to the questions:
Is the portable sewing machine right for you? Which portable sewing machine is best for you?
At first, let's take a look at the pros and cons of these portable sewing machines.
Pros and Cons of the Mini Sewing Machine
First to see Cons
Not durable
Very basic features
Noisier
Not fast compared to standard machines
Not well work with layers or heavier material
Not enough automation that may make beginners feel more difficult as working with it
And then we will see the Pros
Small in size, very portable
Lightweight and compact
Affordable
Easy to sew
Use-friendly for beginners or kids
We can get a point that portable sewing machines have obvious shortcomings and advantages. Because of the cons, lots of sewers do not choose these machines. But likewise, the pros drive some of the other people to buy one of these mini sewing machines. The pros of these portable sewing machines make a very good place to begin with a child or the guys want sewing machine is straightforward and easy to move from place to place. If you want to get more about sewing machines for kids, you can get the post about kids' sewing machines. Also, the other post reviewed sewing machines for beginners. Some machines may be a bit more expensive, but they must be worth owning.
Janome Fast Lane Fuchsia Portable Sewing Machine
The Janome Fast Lane Fuchsia Portable Sewing Machine is without a doubt the best portable sewing machine on the current market. Janome is an excellent manufacturer and develops a lot of high-quality products. This point is well-known.

Although the portable sewing machine is smaller in size than their regular-sized sewing machines, it is created using the same technique that used in the regular ones and it is a great small machine. It is really lightweight and very compact. You can conveniently move the machine from one place to another without any difficulties.
SINGER Pixie-Plus Craft Machine
The other popular machine on the market is the Singer Pixie-Plus Craft Machine. This kid's sewing machine from Singer is a well-known machine. The reason that makes this machine so popular may be a powerful marketing or sweet appearance or so low price that many people can afford easily or all of them.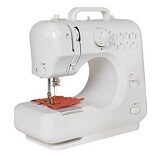 This machine is the one that has high exposure when I see people who work with small sewing machines. Trust your eyes, it is not a bad sewing machine, but if you have enough budget, you could invest in the Janome portable machine which is a bit better and you will not regret it.
Michley LSS-505 Lil' Sew & Sew Multi-Purpose Sewing Machine with Built-In Stitches
On the whole, the Michley LSS-505 is a very compact model for the small sewing machine. It is obviously heavier compared to the Janome portable machine so if you are trying to find a sewing machine really lightweight I will stay with the Janome portable machine.
Although I noticed many no in-depth reviews for this portable sewing machine. I did not think it is a bad machine. It can work well with small-scale sewing projects, however, I will not use it for any job that requires more advanced machines.
Final Conclusion
As reviewed above, I would prefer to recommend you to invest in the Janome Fast Lane Fuchsia Portable Sewing Machine if you want to purchase a portable sewing machine. Indeed, the remaining two machines are less expensive than the Janome portable machine, but for a little bit more investment you will have a sewing machine that will be more durable and can sew more projects that the Singer or Michley can not handle.
Click here to get or explore more reviews of the Janome Fast Lane Fuchsia Portable Sewing Machine on Amazon.