Here are some knitting ideas to inspire knitters to work on shared, crafty, creative knitting projects at their next knitting club meeting.
Knitting clubs are active social clubs, where members often work on individual projects. For a change of pace, why not work on a group project? Here are some ideas for creative knitters, to inspire lots of projects where all knitting skills, fund-raising ideas, and design ideas are welcome.
Knitting Projects: Knitting for Baby
If someone in the group is expecting a new baby or knows someone who is expecting, why not create several items to be presented together as a lovely knitted gift? Several pairs of booties or socks, a hat and mittens set and sweaters are great traditional ideas. If everyone wants to make the same item, make the sweater or socks in different sizes, so that the new baby will have warm knitted clothes through their first year, or first two years.
Another fun group idea is to knit toys for the baby. Each member could make an animal, like a snake or turtle, or a food, like a banana or a tomato. Websites like Craft Bits, offer lots of free patterns for this type of novelty project.
Knitting For Childrens' Charities
First, determine the need. For example, find out if local hospitals will accept knitted items for children or infants. Research other charities to see if there is a need or request for practical items, such as blankets, or fun items, such as teddy bears.
Set a goal for the group and a timeline to reach the goal. Create a chart to track progress and keep momentum, especially for big, time-consuming projects. This type of project could become a yearly campaign for the group, depending on schedules and availability.
Knitting Ideas: Knitting for Charities
To raise awareness and funds for other charities, try auctioning off knitted items, or create a raffle for a larger item, such as a blanket. The members of the knitting group could take turns selling tickets, and work together to create special items for the charity.
Some organizations might request special charity knitting projects, like a pink blanket or a knitted pink ribbon for breast cancer awareness. Other ideas include banners, flags, headbands, wristbands, and socks, all with a logo, slogan, or image that represents the cause.
Create a Patch-work Knit Blanket
Choose a theme or holiday and have everyone in the group create a knit square for a blanket. Themes might include seasons, animals, flowers, or friendship. This would make a great memento and gift idea for a member of the group who is moving away. Holidays blankets can also be made in individual squares.
For a Christmas project, all group members could create individual decorations to attach to a blanket with a knitted evergreen tree design. The decorations could be firmly attached so that the blanket could be used on a bed, or they could be attached so that they could hang like a regular Christmas decoration. In this case, the whole project could hang on a wall as a holiday decoration.
Fun Knitting Project: Yarn Bombing
Sometimes knitters just like to knit for fun, without trying to raise funds or awareness. Sometimes they are looking to brighten people's lives with a little bit of knitting mischief. Knitting graffiti or yarn bombing is a funny, silly, inoffensive way to do this. Look online for an example where knitters wrapped a tree in a unique yarn craft.
What is Yarn Bombing?
Some consider yarn bombing graffiti and call it a pointless waste of time while others appreciate it as bright, beautiful public art. But whether you see yarn bombs as beauty or as eyesores, the premise is much the same: knitters and/or crocheters, acting either alone or as part of a collective, apply their craft to something in the urban landscape. Yarn bombers often work by night, attaching a knit or crochet item around or to a conspicuous piece of public property.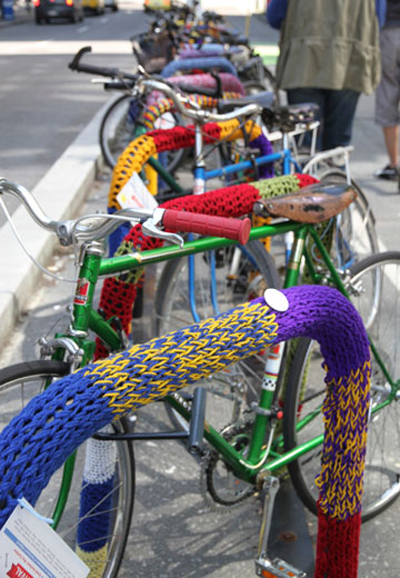 Examples of yarn bombing can range from small knitted hearts or blossoms hung from a tree or bench to a full-scale cozy or sweater for a tree or lamppost. Yarn bombing is usually whimsical, but most yarn bombers would agree their goal is to brighten up the landscape in an unusual do-it-yourself way.
Yarn bombing your neighborhood is an easy and rewarding way to add a little color to local life. But laws in your area may vary, so it's always best to do these things covertly. After all, one man's graffiti is another man's yarn bomb.
Final Word
If any of these ideas for knitting with a group sounds interesting, but there are no local knitting clubs, why not gather some friends together and start a knitting club today?