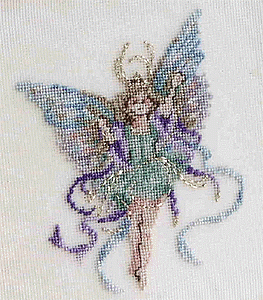 This Fairy is Designed by Donna VermillionGiampa
Size of Design: 77w x 94h
Materials Required:
one 2.5m skein of Kreinik Silk Mori® in each: 3013, 3021, 7135, 7012, 7014, 7124, 6083, 6106, 6104, 4166, 4164, 4163, 4162, 5093, 5053, 5091, 6124, 6123
Kreinik Blending Filament in 002HL
32-count silk gauze from Kreinik (at least 4" x 4" piece)
#28 Tapestry needle or #10 crewel needle
Instructions:
Download the FREE instructions for this Fairy Wonder design on the link below:
Note: Make sure you have a PDF reader on your computer to view and print this pattern. Or you may use a newer browser like Google Chrome to view and download the pdf.
If you have trouble downloading this pattern and would like a printed copy, send a #10 SASE to: SilkGauze Fairy, P.O. Box 1258, Parkersburg, WV 26102.
Credits to: www.kreinik.com